Details
StigmaTag has now been released as a new major version. Version 4.04 contains many improvements and enhancements.
Details
OSS Works aims to bring the OSS standard to a broader audience. For this reason a trade fair event will be held in autumn at the Campus Brugg-Windisch University of Applied Sciences Northwestern Switzerland. The event is organized by Interessengemeinschaft Offline Standard iGOS.
Details
Common Smartcard Solutions Association has restructured itself at the annual general meeting, which took place at 20. March 2015. New chairman is Ulrich Ludwig from Vision ID Engineering.
Details
StigmaTag is now available as a new version V3.12 and presents some interesting innovations and features. In the DataEntry mask we have added a new ''Duplicate recordset'' functionality to facilitate the data entry of similar records.
Details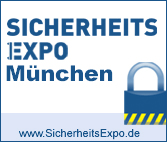 The SicherheitsExpo München is the trade fair for safety and security in the economy and takes place at the 2. and 3. july 2014 in Munich.