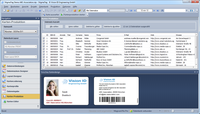 Manage. Print. Encode.
StigmaTag is the universal Card Management, Printing and Encoding solution for all kind of ID cards. StigmaTag is available in different editions and can be extended by optional software modules. In this way the software solution may be optimally adapted to all usage scenarios.
The various integrated modules for contactless encoding make StigmaTag well-suited especially for the production of access control or time and attendance cards, cards for payment applications, membership, club and event cards that are designed to operate in contactless card systems.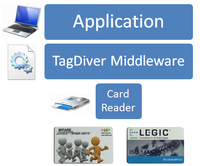 Software library for contactless chipcards
The TagDiver Middleware ensures a safe read and write access for contactless chipcards by providing a simple-designed interface. The controlling application uses only a few commands to access directly the fields defined by the card structure for reading and writing. Also complex card structures will be translated into simple calls by the Middleware.